Reaction
In Tbilisi, a day or two after the Baku incident, Robert Gros parted company with Russell and headed back to Moscow. His description of the Baku event may have been the first to reach American ears, and it apparently caused a minor sensation at the Embassy. "We were told by the Embassy and the CIA that the area was a missile-testing site," he recalled. "The terms flying saucer and missile were used interchangeably at the Embassy." When the executive returned to California, he was visited by two CIA representatives who carefully sifted through his slides and motion picture reels. All his photos and 16mm film footage of the Alyat site were impounded. Gros says he was personally asked by CIA Director Allen Dulles to refrain from discussing the incident.
Meanwhile, Russell and his two companions were heading west toward Czechoslovakia via Kiev. They finally had a chance to unburden themselves of their secret on the night of October 12, when they reached the US Mission in Prague. Hathaway was barely able to contain himself through a late dinner, and at the first opportunity he took the US Air Attaché, Lt Col Thomas Ryan, aside and excitedly told the Air Force officer that they had seen "something that we've been told by your people doesn't exist." Ryan joked that after a year and a half in Czechoslovakia he could believe anything, and arranged for a formal debriefing early the next day. Russell made a fateful decision the following morning. He would need to socialize at the Mission; Hathaway and Efron would have to stand in for him at the debriefing.
Secure in the confines of Ryan's office, the two Americans recounted a myriad of details of observations they had made during their long trip: jet fighters at one airbase; a new kind of bomber at another; possible submarines on the Baku waterfront; details of railway switchyards and construction techniques. But the main item of discussion was the Baku saucer. Hathaway strained to give Ryan as much detail as he could muster. As the travelers talked, Ryan outlined a description of a very strange vehicle. Ryan jotted down the verbal impressions as they tumbled out: "The aircraft was circular." "The aircraft was round." "It resembled a flying saucer." "It seemed to be the shape of a discus, round and circular -- revolving clockwise or to the right."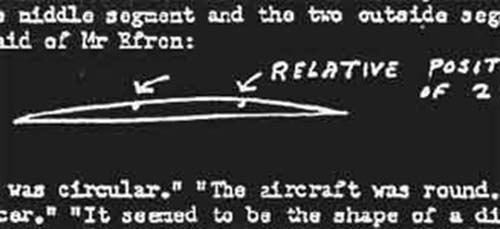 Hathaway was particularly anxious to emphasize that the Senator had seen the objects first, and said that just after the sighting, the Soviet conductors entered their compartments and drew the window shades, which surely implied that the Americans had inadvertently been allowed to see something forbidden. Ryan, initially blase, was becoming intrigued himself. His interest was heightened when Hathaway and Efron revealed a strange and troubling sequel to the incident.
Two days after the sighting the men had been riding in another train between Tbilisi and Sochi on the Black Sea when they encountered a friendly and slightly drunken middle-aged Russian. Discovering that they were Americans, the Russian enthusiastically told them that he himself had been to the US in the 1930s -- as the pilot of a long-distance record aircraft which had flown non-stop over the North Pole to Washington State! He said his name was Egorov, that he was a Hero of the Soviet Union, that he had shot down seventeen German planes during the Great Patriotic War, and that he was now retired. To Ryan, the appearance of such an experienced long-range pilot seemed a "most significant coincidence...taking into account the observations which were reported in the Atjaty region."
"It is difficult for me to believe that this experienced pilot in polar navigation would be retired and doing nothing but travelling around the Trans Caucasus region," Ryan noted, implying that the Baku object was some sort of intercontinental flying saucer.
See: Who was the enigmatic "Egorov?"
As soon as the Americans departed, Ryan transmitted an urgent "NIACT" (Night Action required - ie, wake responsible personnel if necessary), Top Secret, "NOFORN" (No Foreign Release) cable to USAF Headquarters.
NIACT. TO: DINTA, WASH. DC. NOFORN. USAF handle as OPERATIONAL RELEASE IMMEDIATE. USAF CRYPTO PASS TO CINCUSAFE AND USAIRA MOSCOW. THREE RELIABLE US OBSERVERS, SENATOR RICHARD RUSSELL, LT. COL. E. U. [sic] HATHAWAY, ARMY, MR. RUBEN [sic] EFRON , VISITED PRAGUE 12-14 OCT. ARRIVING DIRECT FROM KIEV... AND REPORTED FOLLOWING TO USAIRA AND USARMA. : ON 4 OCT. 55 AT 1910 HOURS BETWEEN ATJATY AND ADZHIJABUL, TEN MINUTES BY RAIL AFTER DEPARTING ATJATY IN TRANS CAUCASUS REGION, TWO ROUND AND CIRCULAR UNCONVENTIONAL AIRCRAFT RESEMBLING FLYING DISCS OR FLYING SAUCERS WERE SEEN TAKING OFF ALMOST VERTICALLY ONE MINUTE APART. DISC AIRCRAFT ASCENDED NEAR DUSK WITH OUTER SURFACE REVOLVING SLOWLY TO RIGHT AND WITH TWO LIGHTS STATIONARY ON TOP NEAR MIDDLE PART. SPARKS OR FLAME SEEN COMING FROM AIRCRAFT. NO PROTRUSIONS SEEN ON AIRCRAFT WHICH PASSED OVER OBSERVERS' TRAIN. BOTH FLYING DISC AIRCRAFT ASCENDED RELATIVELY SLOWLY TO ABOUT 6000 FEET, THEN SPEED INCREASED SHARPLY IN HORIZONTAL FLIGHT BOTH ON NORTHERLY HEADING. FLYING ATTITUDE OF DISC REMAINED SAME DURING ASCENT AS IN CRUISE, LIKE A DISCUS IN FLIGHT. TWO OPERATING SEARCHLIGHTS POINTING ALMOST VERTICAL SEEN NEAR TAKEOFF AREA LOCATED ABOUT 1-2 MILES SOUTH OF RR LINE. AFTER SIGHTING SOVIET TRAINMEN BECAME EXCITED AND LOWERED CURTAINS AND REFUSED PERMISSION TO LOOK OUT WINDOWS. US OBSERVERS FIRMLY BELIEVE THESE UNCONVENTIONAL AIRCRAFT WERE GENUINE SAUCER OR DISC AIRCRAFT. USAIRA RATES INFO B-2. ... RECOMMEND COMPLETE DEBRIEFING OF RUSSELL GROUP UPON RETURN AND SUGGEST COMMENDATION FROM D/I FOR EFFORTS....
Ryan followed up the cable with a lengthy formal Air Intelligence Information Report including a crude sketch of the discs and the comment "The significance of this report re the USAF project 'Unidentified Flying Objects' is remarkable and lends credence to many 'saucer' reports."
A full week before Russell was scheduled to return to the US, the Central Intelligence Agency was analyzing the report. First the airshow bomber flap, now Soviet flying saucers? On October 18th, Allen Dulles informed the Intelligence Advisory Committee, a body composed of intelligence directors from the various military intelligence agencies, the FBI, Atomic Energy Commission, and State Department, of the observation.
As early as December 1954, Air Intelligence Digest had devoted an article to the idea that saucer-like high performance aircraft were an imminent possibility. The article showed illustrations of the Avro "Silver Bug" vehicle (without identifying it as such) and noted that
One of the big questions now facing the United States is this: What are the Soviets doing in the disc-aircraft field? If the United States accepts the possibility of success of circular-shaped aircraft, then it must also conclude that the Soviet Union is capable of developing such aircraft. If readers assume, at the extreme end of the possibility scale, that the USSR is several years ahead right now, these questions must occur to them

* If the Soviets now have such an aircraft in operational use, would the United States air defense system be able to detect, identify, intercept and destroy a bomber or reconnaissance aircraft moving at a 1,500 knot clip at an altitude of 65,000 feet?

* What would be the capability of the Strategic Air Command with present-day aircraft to penetrate the Soviet union on bombing missions if the Soviets defended themselves with disc-type interceptor aircraft with the above performance?

It is worth repeating that the disc aircraft is a vertical riser. (Some day it may be known simply as a VTO, or vertical take-off aircraft.) this means that it could be housed aboard most naval ships, including submarines.... Such an aircraft would need no long, heavily reinforced concrete runways. At the most, it would only need a concrete platform to keep ground personnel and installations from being hit with dust, sand, or gravel. In many instances, a small clearing could provide the disc with a take-off spot. Conclusion: Heads Up! A great amount of information on the development, flight, and production of circular-type aircraft will be reported and discussed during the next few years. It will behoove the USAF to continue its open-minded interest in all such reports, keeping in mind that reports of saucer-shaped aircraft have an increasingly better chance of being true as the years go by. A new era of flight appears about to begin.
Considering that Air Intelligence Digest had suggested that Soviet saucers might be launched from submarines, the fact that the Americans had seen subs at Baku may have been an additional concern, especially when combined with the "Egorov" story. As unlikely as all this might seem, the CIA had established a protocol for dealing with the discovery of Soviet saucers as early as June 1954, when Sidney Graybeal, T. M. Nordbeck and Todos Odarenko had signed a memorandum titled "Intelligence Responsibilities for Non-Conventional Types of Air Vehicles," assigning all responsibility for evaluation of information on possible foreign saucers similar to the Avro project to CIA's Applied Science Division, Office of Scientific Intelligence. The memo stated that
ASD/SI will be responsible for the initiation and proper exploitation of all intelligence measures required to identify, to assess, and to report the use by any foreign power or nation of non-conventional types of air vehicles, such as or similar to the "saucer-like" planes presently under development by the Anglo/British Canadian efforts. In this, ASD/SI will rely on the normal assistance of all other elements of OSI, substantive and staff, of the same kind that it receives in regard to other weapons and weapon systems presently within the normal intelligence activities.
The Russell sighting triggered this arrangement, and the day after the IAC meeting, Wilton E. Lexow, head of ASD, noted in a memo that
1. The objects reportedly sighted by [Senator Russell] are described to be similar to Project "Y" which is in the research stage at Avro Aircraft Ltd., Canada, under contract to the US Air Force....

4. Project "Y" is being directed by John Frost. Mr. Frost is reported to have obtained his original idea for the flying machine from a group of Germans just after World War II. The Soviets may also have obtained information from this German group.

5. Since the objects were reportedly seen in operation in an area where it is most unlikely that experimental flying would be conducted, it is likely that these objects were in service. This would indicate very rapid progress in this development for the Soviets. It does, however, seem inconsistent that the Soviets, if they have such an object in service, would continue their large development and production programs on conventional type aircraft.

6. Since our first information on Project "Y" in early 1953, ASD has been on the alert for information which might indicate that the Soviets were working on such a project. Prior to the sighting by [Russell] no such information has been available.

7. In order to properly evaluate the report by [Russell] and group, it will be necessary to have additional information and details of the sighting. The Air Force has made arrangements for technically competent persons to question the party.
While some members of the Intelligence Advisory Committee might have been concerned about this possibility, it was by no means proven. Nobody had had a chance to formally debrief the Senator himself, who was considered the primary witness. But if Ryan's cable was accurate, there was plenty to worry about. For the first time since the Arnold sighting in 1947, there seemed to be credible evidence of the existence of Soviet saucer-like aircraft.
Assuming that the recommendations of the Durant report accurately reflected Air Force concerns about UFO publicity and public opinion, the Air Force and CIA clearly would have preferred to avoid leakage of the Russell story. By unfortunate coincidence, Keyhoe's latest effort, The Flying Saucer Conspiracy, which again decried official UFO secrecy, was just reaching bookstores, and Edward Ruppelt's memoir on Project Blue Book, The Report on Unidentified Flying Objects, was on the verge of publication. The last thing the Air Force would have wanted was a nightmare linkage of Russell's power with Keyhoe's public lobbying -- and a Congressional investigation of UFOs.
Moreover, if the Soviets actually did have a new vehicle comparable to the Avro saucer it could become necessary, by Cold War logic, to signal both that the US was now aware of its existence and that it had its own counterpart in development.
Russell was expected to be safely back on US soil on October 25th. There was still time to handle the story on the Air Force's terms.