FLAMING MYSTERY STARTLES TEXANS, CROSSES BORDER

EL PASO, Tex., Oct. 12 - (AP) -

An unidentified flaming object soared over the Texas-Mexico border today, apparently smashing into the Samalayuca mountains of Mexico with a loud explosion and billows of smoke.

The approximate impact area was estimated to be less than 10 miles from the point where a V-2 rocket, off its track, crashed south of Juarez May 29.

The public relations officer at the White Sands proving grounds, where the V-2 rockets have been launched, said none of the missiles had been fired since Oct. 9.

Maj. Gen. John L. Homer, Fort Bliss commander and military officials at air fields and other installations in the southwest, said that no guided missiles had been fired today and no rocket planes were missing from the fields in the area.

At least four persons saw the fiery object darting through the skies "with the speed of a falling star" at approximately 9:30 a. m.
Mexican Mystery Missile
October 12, 1947
At 8:30 on the morning of October 12, 1947, a blue or silver flaming object struck the earth near the town of Guadeloupe, Chihuahua, Mexico, just across the border from the US town of Fabens, Texas.
It was reported to have come from the direction of the United States, and it produced a sizeable crater on impact. Members of the Mexican Army who visited the site stated that the object was another V-2 similar to the May 29 incident, and the Mexican War Department issued a statement repeating the claim. The Mexicans were understandably gunshy over stray US missiles after the Spring fiasco.
Major General John Homer, commander of Fort Bliss, who had witnessed the crash of the Hermes II missile in May, personally investigated the October incident to ascertain whether the object was another out-of-control US missile of some type. While Homer expressed the opinion that the story was inflated, it did receive attention at surprisingly high levels in the US. The incident is referred to in Air Force Vice Chief of Staff Hoyt Vandenberg's daily log.
From: CG AGF Fort Monroe, Virginia signed Devers GNAGS

To: D/I Intelligence Army

Nr: AGF 8229

13 October 1947

Following telephone call received from Maj Gen Homer, CG, Ft Bliss Tex at 1916 EST 12 Oct 47

"Report of minor unusual incident not of national interest. It is alleged locally that at 0830 MST an aerial object landed in Mexico near towns of Cussetta-Reforma-Guadeloupe [sic] opposite Fabens Custom Station Tex. No casualties - no damage. Object alleged to be 1 meter long traveling east to west. Blue or silver in color with flame in rear. No smoke. Object alleged to have detonated with double explosion beyond the horizon. I, Gen Homer, have made a personal reconnaissance and have interviewed available Mexican witnesses. American consul in Juarez has transmitted the foregoing to American Embassy in Mexico City. There are no military activities at Biggs Field, White Sands Prov Gd or Fort Bliss that could have caused this incident on this date. Fourth Army has been notified. War Dept has not been notified. The press and radio locally and NY Times from Los Angeles are now checking the incident. No action required by higher hq. Available information at this time is not adequate to estimate cause of the incident. The local papers think it is a meteorite.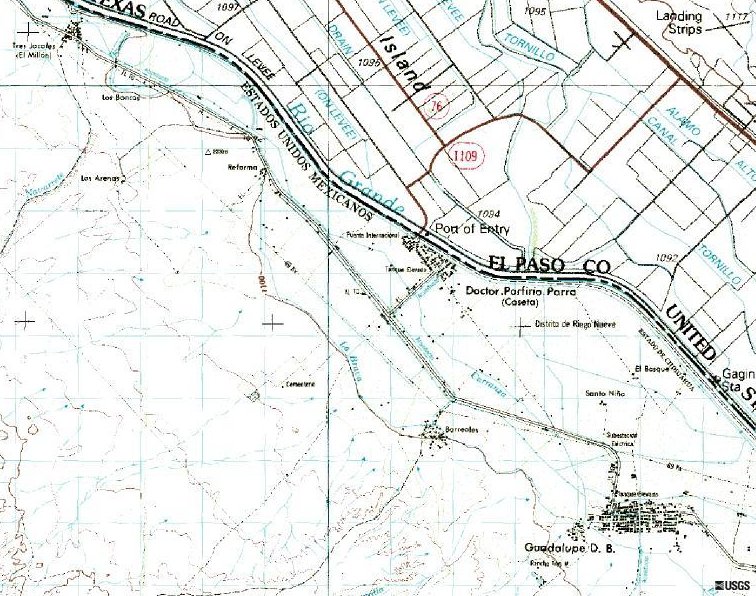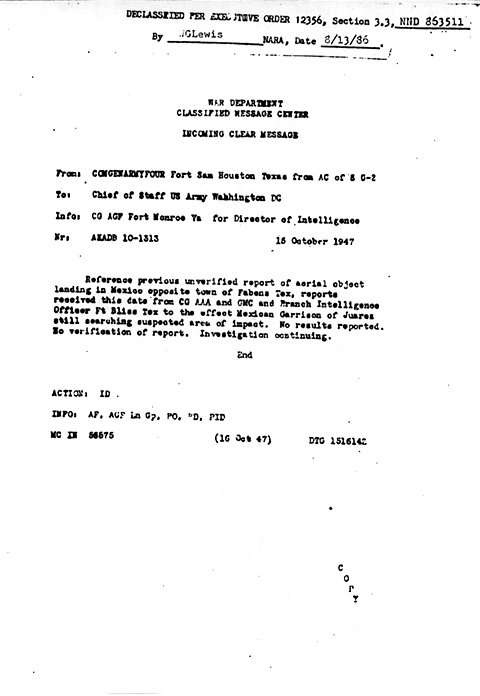 "From: U. S. Military Attache, Mexico City, Mexico

TO: General Staff, U.S. Army, for GGSCID

16 October 1947

A mysterious object which fell near GUADALUPE, Chihuahua (48 KM southeast of EL PASO) on 12 October has been the source of much speculation in the press. According to a sergeant of the 35th Infantry Battalion who visited the crater and reported to the 5th Zone Commander, the object was a V-2. With this as a basis, Defense Nacional announced officially that it was a V-2 similar to the one which fell near CIUDAD JUAREZ on 29 May 1947. General HOMER, commanding FORT BLISS, has categorically stated that no V-2 was fired on that date. A-1 COMMENT: It is believed that the Mexican Army source is incompetent to make a declaration as to whether it was or was not a V-2 but an official U.S. Government announcement seems required at this time, as sovereignty of Mexican soil in involved."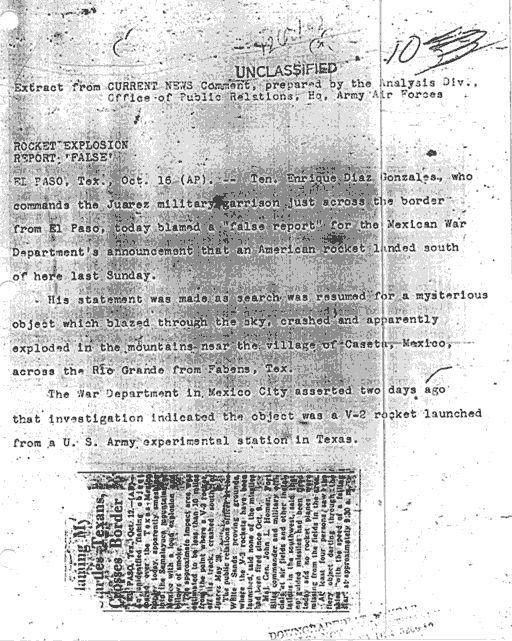 [Unclassified teletype message from AF Headquarters to Wright Field's air technical intelligence office, dated 21 Oct 47]

HQ USAF WASH DC

COMGENAMC WRIGHT FLD DAYTON OHIO

FOR TSNAD FROM AFACB SIGNED CSAF REURTEL TSNAD DASH ONE ZERO DASH THREE

INFORMATION AVAILABLE THIS HQ WAS FORWARDED BY LTR DATED TWO ZERO OCT FOUR SEVEN PD COMGEN ARMY FOUR REPORTS INVESTIGATION CONTINUING PD YOUR COMMAND WILL BE FURNISHED COPIES OF REPORTS UPON RECEIPT

Millard Lewis

Colonel,

Executive

Asst. Chief of [Air] Staff -2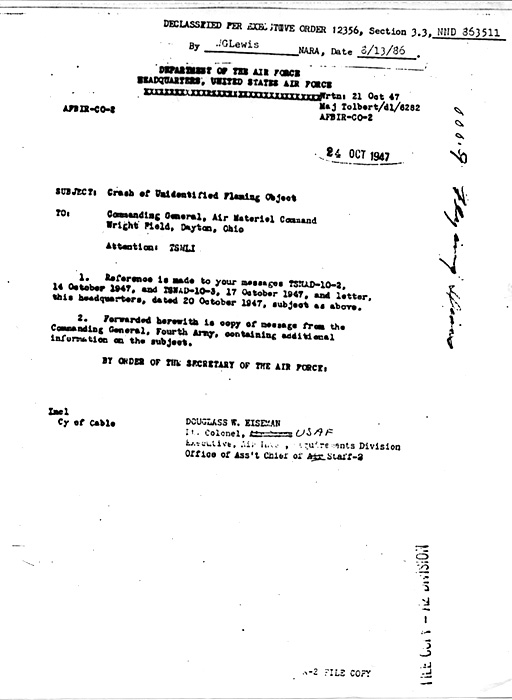 [USAF Vice Chief of Staff Hoyt Vandenberg daily log, 27 October 1947]

1335 Tel - Major White to Col Lee, Gen. Lindsay's [1] office, to inquire if they are conducting investigation into alleged missiles over Ciudad, Mexico. They are, and Col Forrest, that office, said it was requested by the State Department, per information from Lt. Col. D. C. Little, Dept of Public Information. The investigation discloses a negative report from each station in the area which could have launched the missile, except Fort Bliss, from which a definite reply should be received by tomorrow, the 28th. Major White is referring case to Inspector General.

[1] Probably refers to Gen Richard C Lindsay, chief, Policy Division, Office of the Assistant Chief of Air Staff for Plans and Operations at Army Air Force headquarters